FuelCheck TAS provides real-time information about fuel prices at service stations across Tasmania and is accessible on any device connected to the internet, including smartphones, tablets, desk top computers and laptops.
FuelCheck TAS uses information from cellular, Wi-Fi, and Global Positioning System (GPS) networks to determine your approximate location. To find your nearest service station, or your current distance from a particular service station, you must enable Location Services on your device/browser and give FuelCheck TAS permission to use your location data.
You will need to be connected to the internet to see the most up-to-date FuelCheck TAS pricing information.
The Consumer, Building and Occupational Services (CBOS) website contains more detailed information on FuelCheck Tas. For consumer information, go to FuelCheck TAS - Consumers. For retailer information, including reporting obligations, go to FuelCheck TAS - Fuel Retailers.
Warning: Never use your phone while driving, traffic penalties may apply.
How to use FuelCheck TAS
Find the cheapest fuel near you
Tap/click the Fuel Near Me panel on the FuelCheck TAS home page.
When the map opens, choose your preferred fuel type and brand (optional) from the buttons at the bottom of the screen.
The map will update to show the price of your selected fuel type at each nearby service station.
Find the cheapest fuel in a particular location
Enter the name of the suburb/town or postcode and tap/click enter
To identify a particular fuel type and/or brand in that area, make your selections and the map will update.
You can view your search results on a map or as a list:

To change from map to list view, tap/click the list icon in the top right corner of the screen. To change from list back to map view, tap/click the pinpoint icon.
In list view, you can sort by price or distance.
If there happen to be no service stations found in the particular location you have chosen, FuelCheck TAS will automatically identify the next closest service station.
Save FuelCheck TAS on Apple mobile devices
Open the FuelCheck TAS website in your browser.
Tap the 'up arrow-box' at the bottom of the screen, and scroll along the 'copy' line.
Tap the 'Add to Home Screen' button.
Tap 'Add' to complete.
Save FuelCheck TAS on Android mobile devices
Open the FuelCheck TAS website in your browser.
Tap the 'three-dot icon'
Select 'Add to Home Screen'
Tap 'Add' to complete.
Bookmark FuelCheck TAS on a desktop computer (Apple and Windows)
Open FuelCheck TAS in your browser
Bookmark the page address for future use using the instructions provided by your browser.
Service station not listed
Service station operators across Tasmania have provided their details for FuelCheck TAS, but some are still finalising the registration process. If you find that a station near you isn't listed, you can lodge a General enquiry on the CBOS website.
Fuel type not listed
FuelCheck TAS will display all types of fuel that are currently available for purchase. If a particular service station is not displaying a type of fuel this could be because they don't supply that fuel or it is temporarily out of stock.
Did you know there can be a difference of 40 cents per litre between the cheapest and most expensive service station?
FuelCheck TAS gives you real time fuel prices on your fingertips. Over 200 service stations in Tasmania uploading fuel prices in real time. You can find the cheapest fuel near you anytime anywhere.
Add your favourite stations to personalise this app. With notifications turned on, you will be alerted when your favourite station's price drops!
My Trip can help you locate the cheapest petrol on a journey from any two locations.
Trends allow you to see the price cycle, cheapest day to fill, price range in your local area and compare prices for different fuel types.
Warning: Never use your phone while driving, traffic penalties may apply.
Fuel types
FuelCheck TAS can be used to identify petrol fuels, diesel fuels and gas fuels. The following table contains a brief description of each of these fuel types. Check with your vehicle manufacturer if you are unsure which fuels can be used in your car.
Petrol
Ethanol 94 (E10)
A fuel blend of unleaded petrol and ethanol with an octane rating of 94. Ethanol is a biofuel that comes from fermenting plants such as wheat and sugar cane. The name E10 means the fuel is 10% ethanol and 90% petrol. Most cars on the road today can use E10.

United Petroleum only guarantees an octane rating of RON 91 for E10.
Unleaded 91
Standard unleaded petrol with an octane rating of 91
Premium 95
Premium unleaded petrol with an octane rating of 95
Premium 98
Premium unleaded petrol with an octane rating of 98
Ethanol 105 (E85)
A fuel blend of 70% to 85% ethanol and unleaded petrol and with an octane rating of 105. It can only be used in cars that have been specifically built or modified to use it, including flexible-fuel vehicles and V8 racing supercars.
Diesel
Diesel
A fuel that is used in diesel engines and is also known as distillate.
Premium Diesel
A diesel fuel, usually with additives designed to improve efficiency or clean the engine.
Biodiesel 20
A blend of 20 percent 'bio', often made from vegetable oil, and diesel fuel. Most diesel engines can run on biodiesel, refer to your equipment or vehicle manufacturer for confirmation.
Other
LPG
Liquefied petroleum gas is a flammable mixture of hydrocarbon gasses made from fossil fuel sources. Also referred to as autogas and only to be used in engines modified to use gas.
CNG/NGV
Compressed natural gas.
EV charge
Electric vehicle charging station, only for use in electric cars.
FuelCheck TAS security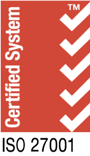 ISO/IEC 27001:2013 Information system management
FuelCheck TAS is certified for its implementation of standards.
Learn about ISO 27001